From Saturday 08/047201 MARIO PIU Pres. NEURALS RADIO SHOW broadcast on TRANCE ENERGY RADIO: http://t-er.org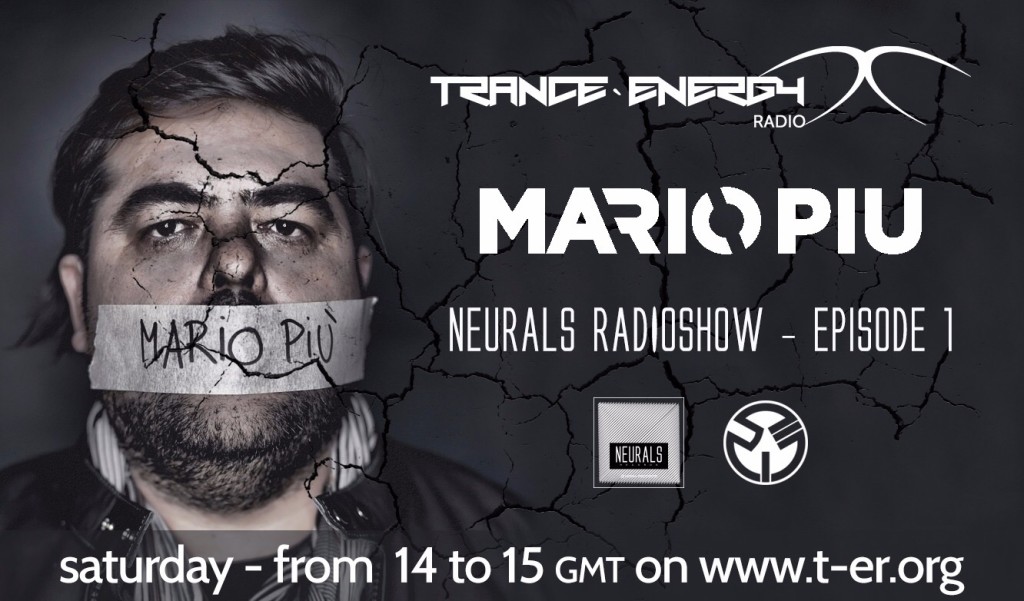 Mario Più è finalista ai Dance Award Italia! Votatelo con un sms al 3406358503 con il codice 234.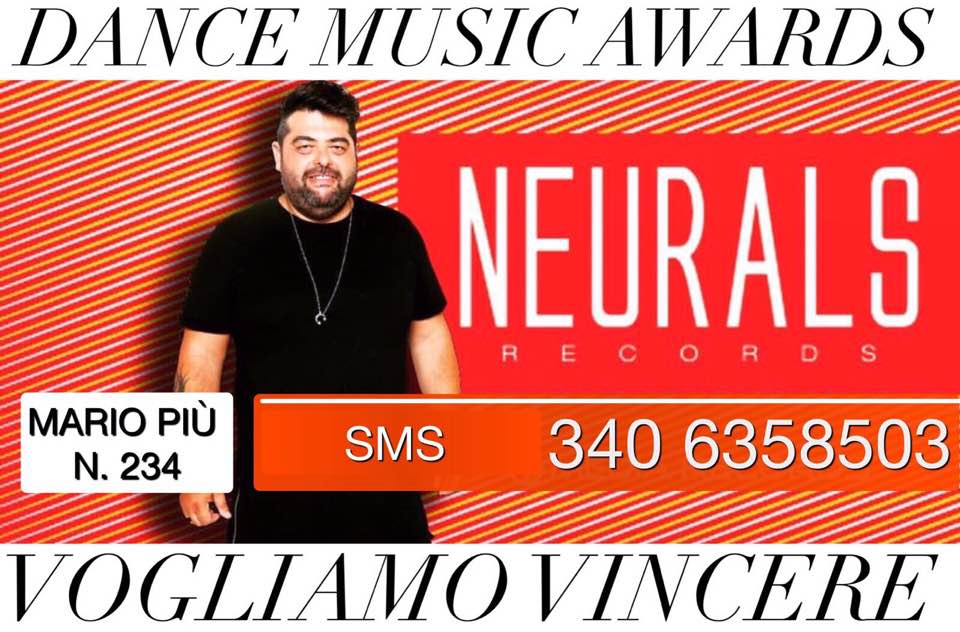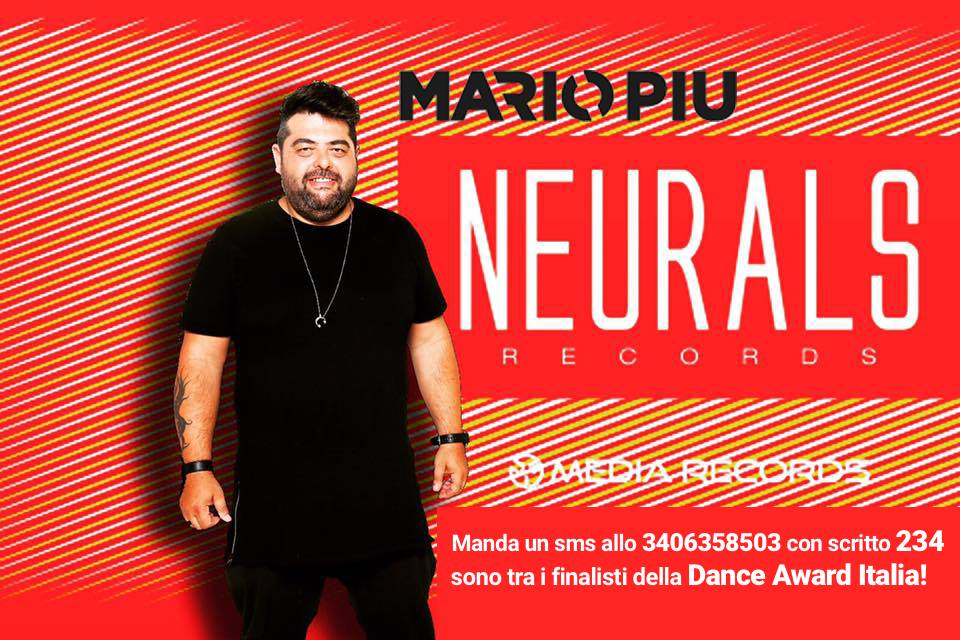 22/03/2017
Listen to my # MixPiù, the weekly appointment with my music!
02/03/2017
Mario Più back on Media Records on Neurals
Trance music evolves, it camouflages, makes its transaction, its commercial repositioning and his statement of artistic intent: a real #tranceaction. Stainless actually, trance music can only change the skin after having given many players the phenomenon and the industry of festival events. Trance music have risked being sucked into the EDM big room. When a general cease to be fashionable, coolest, the trance music – after steady growth, unique, ethereal, magical, melodic -, it will off. Everyone is ready, as usual, to get on the bandwagon and to declare themselves fans for centuries the usual suspects. But only at the appropriate time. Instead, there are great men who believe always in this genre. On everything and everyone it is Mario Più, the Italian Super Mario has become the love missiles: Mario is back with a brand new trance label, Neurals Records (a member of Media Records group), aims to intercontinental flights. Its audience target is the world."By now everyone is aware of the return in the Media Records musical field and its founder and guru, Gianfranco Bortolotti, back on track at speeds and load full of ideas", says Mario Più. "As usual, Bortolotti has always three jumps ahead, he's visionary man. His great return has decided to entrust a new label to manage. The label is called Neurals Records and will have a decidedly oriented to trance style, with various influences. But always drived by the melody".Mario Più add. "So, sequencing of high quality releases with important names of the national and especially international guys. There are areas where the trance music scene for years is mainstreamed. We also take the opportunity to new talents who have quality products to offer to the market. I want presumptuous: I can admit that there are all preconditions, for our own Neurals Records we can follow the older sister BXR footprints, with same goals. Especially, if to see and to promote the whole project it is one as guru Bortolotti".
Il ritorno in Media Records di Mario Più con Neurals Records
Il Super Mario nazionale è diventato da esportazione: con la nuova etichetta trance si punta a voli intercontinentali. E nasce il cambiamento: arriva la #tranceaction
La musica trance si evolve, si mimetizza, fa la sua transazione, il suo riposizionamento commerciale e la sua dichiarazione di intenti artistici: una vera e propria #tranceaction. Candida come è oggi, la musica trance non può che cambiare pelle dopo aver regalato molti protagonisti al fenomeno e all'industria dei festival e aver rischiato di venire risucchiata dalla EDM big room. Quando un genere smetterà di essere di moda, la trance, dopo una costante crescita, unica ed eterea, magica e melodica, si farà largo. Tutti sono pronti, come al solito, a salire sul carro del vincitore e a dichiararsi fan da secoli dei soliti noti. Ma solo al momento opportuno. Invece, ci sono uomini grandi che credono da sempre in questo genere. Su tutto e tutti c'è Mario Più, il Super Mario nazionale ormai diventato nazionale da esportazione: con la nuova etichetta trance Neurals Records (gruppo Media Records) punta a voli intercontinentali. Il suo target è il mondo.
"Ormai tutti sono a conoscenza del ritorno nel campo musicale di Media Records e del suo padre fondatore, Gianfranco Bortolotti, tornato in pista a pieni regimi e carico di idee", spiega Mario Più. "Come al solito Bortolotti è due semafori avanti agli altri e con questo gran ritorno ha deciso di affidarmi una nuova label da gestire. La Label si chiamerà Neurals Records e avrà un'impronta decisamente orientata alla trance, con varie contaminazioni. Ma sempre improntate sulla melodia". L'intenzione di Mario Più? "Mettere in sequenza delle release di alta qualità con nomi importanti del panorama nazionale e in modo particolare internazionale. Ci sono territori dove la scena trance è da anni mainstream. Daremo anche l'opportunità a nuovi talenti che hanno produzioni di qualità da proporre al mercato. Voglio peccare di presunzione: posso ammettere che ci siano tutti i presupposti perché Neurals possa ripercorrere i traguardi che nella seconda metà degli anni '90 raggiunse sua sorella maggiore, nota come BXR. Specialmente se a visionare e a promuovere tutto il progetto c'è uno come Bortolotti".
Priority official hashtags
#gianfrancobortolotti #mediarecords #mariopiu #tranceaction #neuralsrecords
neurals@mediarecords.com
07/02/2013
Finally the new web site is online!!
08/02/2013
The 2012 was a great year withouth any doubt for me and my mate Mennie …but the 2013 started really better…Thanks to the releases included in "Hotfingers Talks", the forthcoming compilation "Big City Beats" and the future release of our rmx for the great "Nurvous Rec"…Thanks for all your massive support…
10/04/2013
Big City Beats Vol.18 is out!
Included:
Mennie & Mario Piu-AFFAIR
http://www.bigcitybeats.de/cds.php?cid=130
22/04/2013
Out Today on Beatport.com Mould & Niko de Vries (Official) – Love, Life & Laughter (Mennie & MARIO PIU' (official page) Rmx) on Tiefblau Records…Already supported by Teenage Mutants, Atapy, Patrick Podage (Official), Raffa_FL dj, Ruben Mandolini Artist Page, Loverdose and many others…
Tiefblau Records Podcast Episode #1 Mixed By Mennie & Mario Piu
https://soundcloud.com/tiefblau-records/tiefblau-records-podcast
25/06/2013
Finally out Mennie & Mario Piu remix for Lancelot out now on Nurvous Records..
https://soundcloud.com/lancelotofficial/thinking-of-you-ft-whyte-5?in=lancelotofficial/sets/lancelot-thinking-of-you-ep-1
01/072013
Out Now on Incorrect Music!!
Mennie & Mario Piu -Break My Soul
http://www.beatport.com/track/break-my-soul-original-mix/4471163